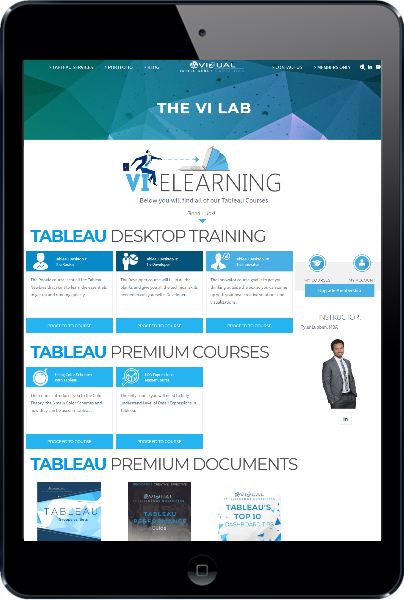 – ON-DEMAND ELEARNING COURSES AT YOUR FINGERTIPS
– FREE LIFETIME UPDATES ON ALL PURCHASED COURSES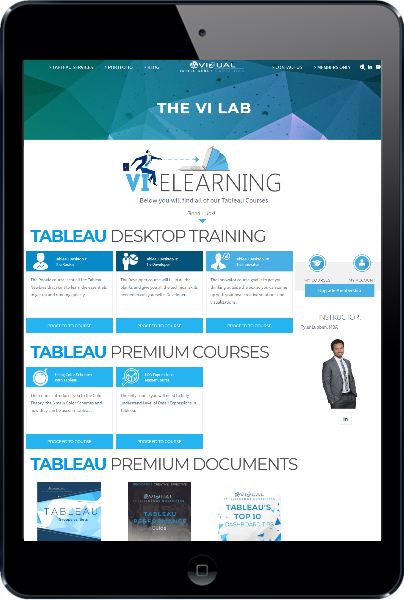 – ON-DEMAND ELEARNING COURSES AT YOUR FINGERTIPS
– LIBRARY FULL OF DOCUMENTS AND GUIDES INCLUDED FOR FREE
– FREE LIFETIME UPDATES ON ALL PURCHASED COURSES
Tableau Desktop I:

The Rookie
The Rookie course is for all the Tableau Newbies that want to learn the essentials to get up and running quickly.
Tableau Desktop II:

The Developer
The Developer course will fill in all the blanks and give you all the technical skills needed to call yourself a Developer.
Tableau Desktop III:

The Innovator
The Innovator goal is to get you thinking outside the box so you can test Tableau's boundaries.
Using Color Schemes

with Tableau
This course introduces you to the Color Theory, the 6 main Color Schemes and how they can be used in Tableau.
LOD Expressions 

Master Course
The only course you will need to fully understand Level of Detail Expressions in Tableau.
The Tableau On Demand Training Packages is for businesses that want to purchase Tableau VI eLearning Courses at a discount with bonuses. All your team members will have lifetime access to our Tableau eLearning courses as well as a team only Q&A webinar to answer any questions and a bundle of 15 Minute Tableau Expert Calls with me.
– Team Access to VI eLearning Course(s)
– Q&A Team Webinar
– Bundle of 15 Minute Tableau Expert Calls
Satisfied Tableau Students:
This was great Tyler - thank you! Sorry I peppered you with questions while I was going through it. I re-listened to several parts, especially when you were introducing the paletton tool and that got me going.
This is the best value for money training I found online around these key Tableau operators. Learn how and why to lock your aggregation at the desired level in your data hierarchy, both dependently and independently of your view. A follow-along worksheet is included for download. Instructions are delivered clearly and with enthusiasm by the trainer, who throws in a few neat, not-immediately-obvious bonus tricks, including the use of LODs in place of the lookup operator. Recommended. Honestly, even being nit-picky I can't think of anything. And I really tried to.
Very informative and nice neat chunks with lots of hands-on training. Even for someone who has used Tableau for over 6 years and considers myself to be an expert these have always eluded me...thank you for simplifying them!
I loved it! I never really looked into LODs too much. After taking this course, I can't believe how easy and yet powerful they are. I have been wanting to do these types of calculations for a while.
It was an excellent course. I was having difficulty understanding LOD via another Udemy course. Your course helped clarify things.
Visualization and Insights Solutions Analyst
I really liked this course. It definitely gives me a better understanding of LODs! I learned some tips not related to LODs. Guess this was a mixed blessing?! I am definitely going to continue my Tableau education with you, Tyler, so thanks!
It was very good; I'm relatively new to Tableau and never realized the powerful things you could do using these LOD Expressions.
Patrick Prince
Data Analyst/Visualization Specialist
Christopher Scott
, Leader of Raleigh-Durham Tableau User Group and Tableau Ambassador
Patrick Prince
Data Analyst/Visualization Specialist
Juan Velasquez
IT Consultant
Kimberly Rivers
Business Intelligence Analyst
Jesse MacDonough
Tableau Administrator