Our sister company VizualSurvey is the bridge that connects market researchers to industry leading visualizations.
The simple and quick solution for visualizing your survey data. No longer need to wait months to get a survey dashboard. We can get you a stunning Tableau survey dashboard quickly, just give us your data and we will do the rest.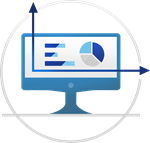 We can create a custom Tableau survey dashboard or use one of our Tableau dashboard templates. Either way, we can get you up and running quickly. Visually analyze your survey data, filter your results and slice it up how you want in Tableau. Contact us to learn more!
Tableau Survey Presentation
No more PowerPoints! Take an interactive Tableau survey presentation to your next meeting and WOW your end users. We will work with you to create an interactive presentation in Tableau like you never seen it before.