Tableau is a powerful data visualization tool which allows everyone to play and visualize data. Every day more and more people are exploring the power of Tableau, and with the growth of the Tableau community, one question keeps arising, how can I become a Tableau Zen Master? If you are a Tableau user, then I am sure you have already heard this term. What is a Tableau Zen Master? What are the requirements for becoming a Tableau Zen Master, how are they selected and what you should do to become one of them? If you have these questions, then you have come to the right place. In this article, we will cover all your questions.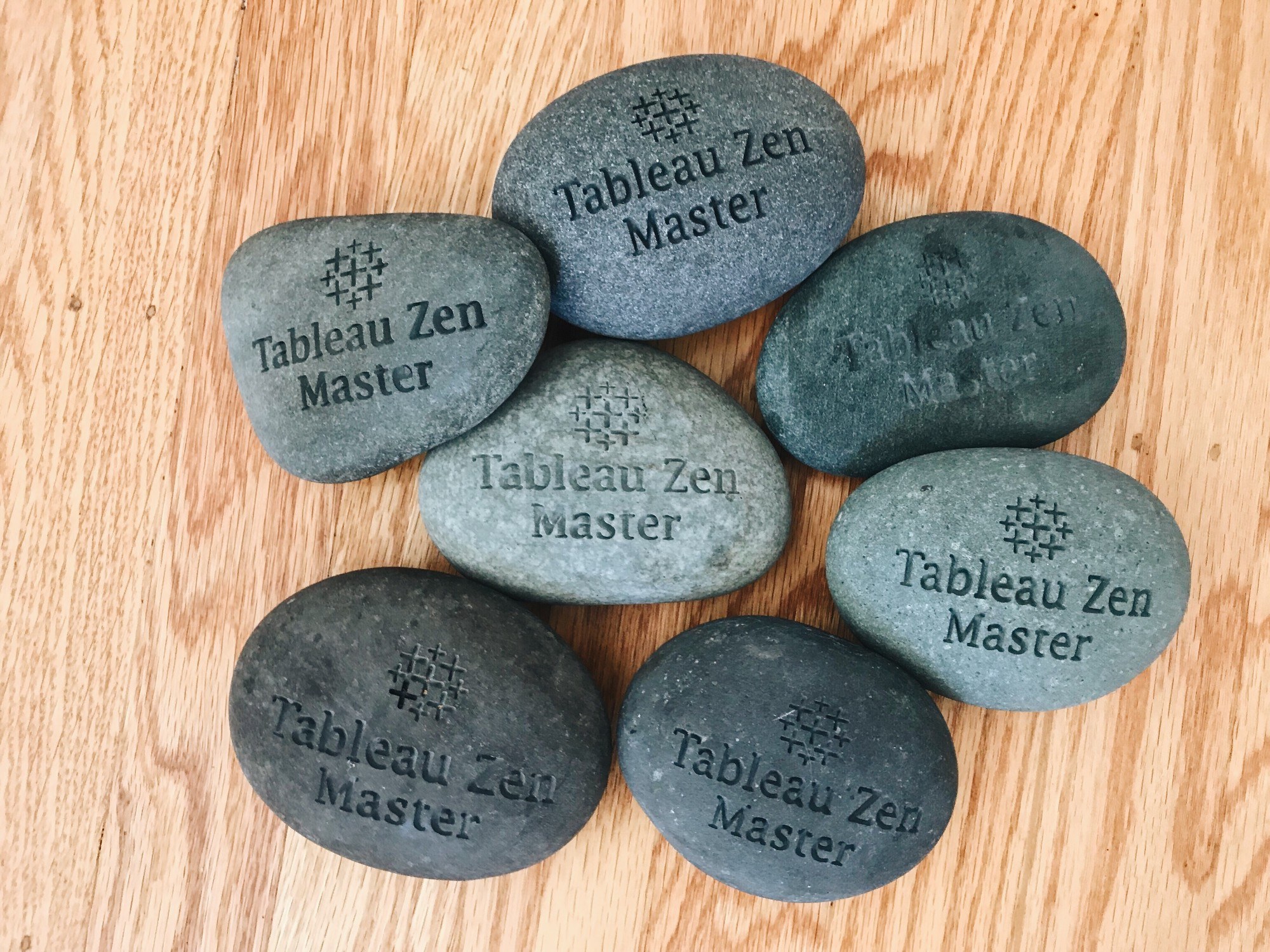 FREE DOWNLOAD: Don't leave empty handed, download the Top 10 Dashboard Tips PDF to take with you. Get all 10 tips in a 1 page PDF!
What is a Tableau Zen Master?
Tableau prides itself on its active community. Tableau has one of the most active BI communities I have ever seen. From this community, Tableau recognizes people who share their knowledge and bring innovative new ways to use Tableau. These selected few are named Tableau Zen Masters which are nominated by the Tableau community and its team members. Tableau Zen Masters helps to complete the mission of Tableau. Every year Tableau announces their new Tableau Zen Masters for the year based on their contributions from the previous year.
Anyone from any occupation can become a Tableau Zen Master. Robert Rouse who was Air Force Officer became Tableau Zen Master (2015 to 2016)
If you become a Tableau Zen Master, You will get exclusive access at various conferences, get a special badge and you will be featured on Tableau's website. If you do any freelancing or consulting you would more than likely get more invites to give training and to give consultancy for companies. I know most people don't do it for this, but it is a residual effect which is good for business.
Requirements for Becoming a Tableau Zen Master
Unfortunately, there are no exact rules or checklist to follow, and there is no guarantee that you will become a Tableau Zen Master. So what should you try to become a Tableau Zen Master?
In a podcast, Andy Kriebel (Tableau Zen Master Hall of Fame) talked about becoming a Tableau Zen Master. According to him, there is no checklist to follow to become a Tableau Zen Master; it's part mystery. He considers it as a designation which only selective people expert at Tableau achieves each year who go above and beyond what anybody else does in the community.
If we follow other Tableau Zen Masters footsteps, we will see that they are highly knowledgeable at Tableau and they are willing to help the community for free. They are helping to bring the mission of Tableau in front of new people. With their new innovative and creative ideas, they are taking this powerful visualization tool to the community so that it's easier for the user to use this visualization tool.
The process of Becoming a Tableau Zen Master:
Each year Tableau seeks nominations from Tableau users from all over the world based on their contribution from the previous year. People can nominate their favorite mentor who gave their time selflessly and makes things easier for the community. People can nominate themselves also if they want.
When a person nominates someone they need to answer these three questions (questions may differ) in form.
How is this person a teacher?
How are they a Tableau Master?
How do they collaborate?
People can be nominated for a certain amount of time and once the time is over the nominations will be reviewed by the selection committee composed of Tableau employees.  Hall of Fame Zen Masters also takes participation in the selection process.
Selections of Zen Masters are not based on the number of nominations received. Tableau team has some internal metrics, and nominations received by employees also count.
So it's clear that we have no checklist to follow, but we can monitor who have achieved this title. Below are the few things Tableau Zen Masters have in common.
Writing Books on Tableau:
Writing a book can be challenging, but if you are posting blogs on your website and giving value to the community daily, then you might already have all the content. Basically you will teach just like you do in your blog but in the form of a book or ebook instead. You will not get immediate feedback from your audiences like that you typically get in forums or blog posts.  Another thing is it's difficult to edit once it is published. So you have to take huge preparation in making the book. Dan Murray spent more than eight months to complete his book, and his dedication made it easier for him to become a Tableau Zen Master.
If I had to guess why I was recognized as a Zen Master in 2014, it was probably for two reasons. First, I wrote a book on Tableau called Tableau Your Data! Second, I gave around 70 speeches last year on being data-driven, on my early experiences with Tableau or on some helpful technique. Dan Murray
It will be helpful for you if you get a team to assist you. After completing the book, you need technical reviewers who will go through each chapter to let you know if corrections are required.
Once you completed your book, it's now time to publish. You can publish it on the Kindle book store or your website. Then share your book with the community.
Create Tableau Content on a Blog:
One of the great ways to share Tableau content is to create a blog. Almost every Tableau Zen Master has a website where they share their content freely to help users use Tableau easily.
I am heavily engaged in the Tableau community through my blog that contains tutorials and commentary as well as twitter. Matt Francis
When you create a website and publish all of your articles on it, it allows users to be able to find all your content easily in one place. To create a website, you will need a domain, hosting and some knowledge of managing your site. I suggest you use WordPress, as it is easy to use and good for SEO. You can also create your site in blogger, Wix, tumbler for free. You can hire a freelancer who will set up your website professionally or learn yourself on YouTube.
Share Tableau Tips Regularly:
You have to keep sharing tips and tricks regularly so that no distance is created between you and your followers. It is helpful for users if you share your tips on a routine so that your visitors know when to come. You need to bring something creative and innovative which will help them to use Tableau more effectively.
Visualizations on Tableau Public:
Share your impressive visualizations on Tableau Public. It's an excellent place for learning and getting inspiration from others. It is a free service which allows everyone to publish their interactive dashboard to the web.  You can then embed this on your blog. As it is public anyone can see it so be careful not to share any confidential data.
Speaking at Tableau User Groups:
One of the best ways to keep engaging with people is to join a Tableau user group where Tableau users, fans and enthusiasts meet to share their views and discover new ways of using Tableau. To get e-mail notifications about upcoming user group meetings in your area visit here.
Last year, I had the good fortune to speak at over 40 user groups all over the USA and Europe. Dan Murray
Helping the Tableau Community:
Tableau is becoming famous day by day, and more people are exploring this powerful software and trying to learn it. However, when they find problems, many of them try to find solutions in the Tableau Community Forums. Contribute your innovative and popular ideas on Ideas Forum. Provide your valuable feedback to the engineers in the beta community.
Find peoples looking to solve their problems on Reddit, Quora, Twitter, Facebook, and other social sites and give your valuable opinion. Doing webinars and podcast is also a great medium to get in contact with people.
It is essential to brand yourself in the world of the Internet. It would be good to focus on Tableau if that is what you want to be known for. Its good to focus on one niche and become an expert on that topic. When I see a YouTuber or blogger make content on multiple niches (Tableau, Excel, PowerPoint, etc) its a turn off for me; I want to follow someone who only gives content related to to the topic I am trying to learn.  Because I know in the future I will get content I like from him around the topic I was looking for. So your website, YouTube channel, Social profiles (FB page, Twitter, Reddit, Quora) all should focus around Tableau. Create a community and make leads (new visitors) into followers so that they are ready to nominate you in upcoming Tableau Zen Master polls.
Follow Other Tableau Zen Masters:
The reason why you should follow others is that this will improve your knowledge and gives you the ability to help the community more efficiently. To become a better designer, one should first copy the design of best designers, and by doing this, they became more creative and began to create impressive dashboards. If you try to do what other Zen Masters are doing, you will be creative, and by practicing, you will be able to make masterpieces like them.
Discover your own way to help others as there are no rules to follow.
Inspiration from Tableau Zen Masters:
Are you frightened that you can't meet the above qualities, don't worry about your current position because all of the successful people have started from zero.
Anyone who has never made a mistake has never tried anything new. Albert Einstein
You may face difficulty when you are using the software for the first time. It may seem hard to create a new design, or it may not work the way you like to design and present your data. You are not the only one who has faced this. All experts of Tableau including Tableau Zen Masters have practiced for years and years and still learning and exploring new features and new ideas every day. Typically people see the success of people but what most of us miss is how hard they worked to achieve this. Below are a few examples of Tableau Zen Masters who have reached their goal despite their limitation.
I proceeded to fail miserably in delivering on any of the goals we'd established for the first year of the practice. After that, my salary went to zero. I was 100% incentive. Dan Murray

I couldn't find any internships in the Paris region or anywhere else in France. It was rather difficult, a rather tight market. Jonathan Trajkovic

I was really bad at Tableau when I started using it. I mean really bad. I went through the same struggles as a lot of new users, especially when trying to quickly transition existing Excel reports to Tableau. Ryan Sleeper
Ask these questions to yourself:
Are you willing to learn Tableau and love to play with data?
Are you ready to help the community for free?
Are you trying to create innovative and creative ideas?
If these answers are yes, then you are driving on the right road. However all the people who have become Tableau Zen Master are not doing all these things just for designation, they love what they are doing and will continue no matter if they are a Tableau Zen Master or not.
FREE DOWNLOAD: Don't leave empty handed, download the Top 10 Dashboard Tips PDF to take with you. Get all 10 tips in a 1 page PDF!