How to Become a Tableau Consultant
Nowadays data is considered as a new world currency and Data Visualization is the art of visually presenting data which is becoming more in demand over time. People no longer want to see text tables; they want to be able to analyze their data visually, so it is easily digestible. Tableau Software has become the leader in data visualization, so it makes sense to specialize in that software if you want to ride the data visualization trend. So the question is, how do you become a Tableau consultant?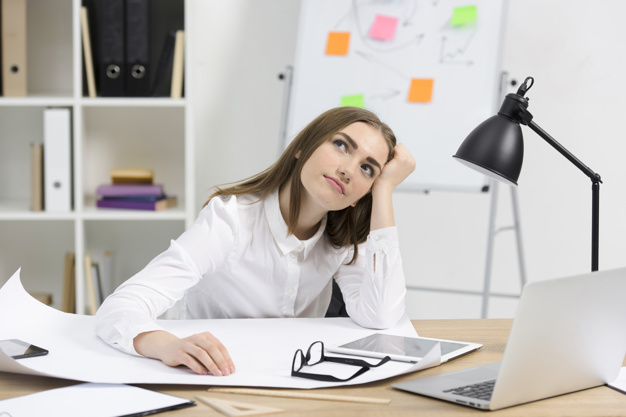 FREE DOWNLOAD: Don't leave empty handed, download the Top 10 Dashboard Tips PDF to take with you. Get all 10 tips in a 1 page PDF!
What is a Tableau Consultant?
A Tableau consultant is an expert in Tableau who provides service for a fee. They have a strong desire to learn which is essential because Tableau is updated all the time to make it more user-friendly and more effective for data visualization.  The top Tableau consultants usually have a good mix of data analytics, visual design, and strong business acumen. In my opinion, the one thing that divides the good from the great is creativity and problem-solving skills.
What Does a Tableau Consultant Do?
Create powerful dynamic dashboards and visualizations from any type of data.
Give Tableau training to users so that they can use Tableau like an expert.
Performs data cleaning and modeling.
Improve data structures and visualizations for better use.
Solves business problems and also develop solutions for clients.
Can process and synthesize large data sets.
Have strong communication skills and can work with a team.
Conduct relevant research, perform data analysis, and create appropriate reports for clients.
Can be creative and think outside the box.
Demand and Salary for Tableau Consultants:
We are living in a world of data, and every company from small to large is starting to realize the importance of analyzing data which is why the demand is increasing day by day. Here is what Google trend says about the keyword Tableau consultant over time. As you see it's continuously trending up which is telling us it is becoming more popular.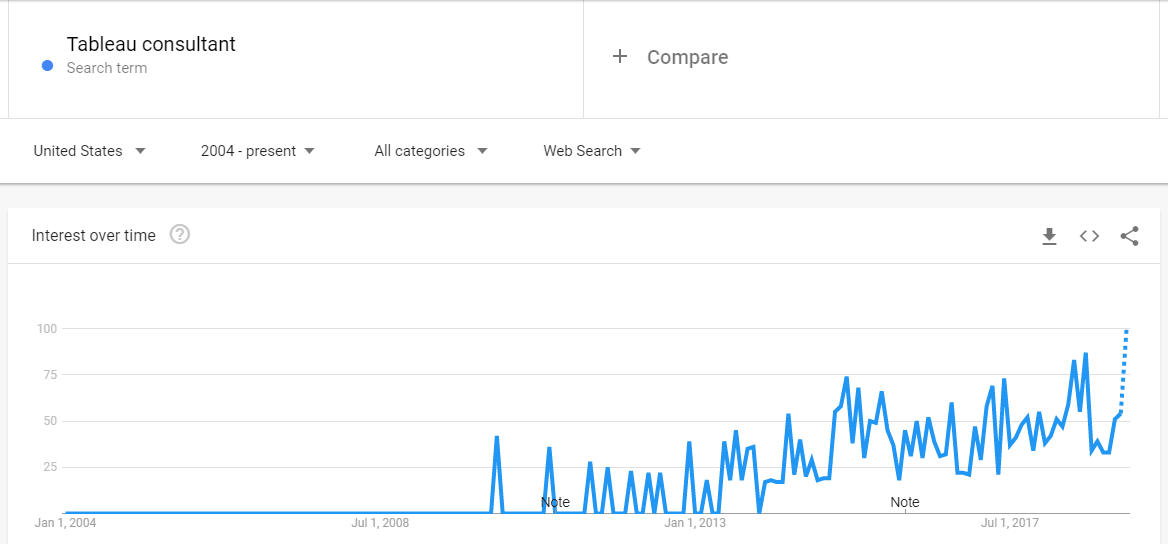 Picture: Google trend showing the interest of Tableau consultant.
According to Indeed, "The average salary for "tableau consultant" ranges from approximately $51,456 per year for Data Specialist to $127,826 per year for Data Scientist." Salary also depends on the project and the negotiation between client and consultant. In freelancing sites Experts are working from 25$ to 100$ or even more per hour.
Becoming a Tableau Consultant:
To start off you need to learn Tableau and become an expert in it, that is a given, but it doesn't stop there. Don't think that you will become a Tableau expert within a short period of time by doing some online courses. As Tableau is updated regularly with new features you have to learn continuously and to master it, it takes a lot of practice. Tableau is so flexible, you can do so much more with it then what you learn in a training class. Once again, just learning the software does not make you good at it. You should also learn about data warehousing, data cleaning, data modeling, SQL programming, visual design best practice and have a good general understanding of business. With this, you will be a pretty good consultant, but in my opinion, you still won't be great unless you are also creative and can think outside the box. Those things are a lot harder to obtain, and honestly, if you don't have it, you don't have it.  So after learning all these things and a lot of practice you can start marketing yourself. We will split this next section into two pieces.
Learning the skills needed to become a Tableau Consultant
Promote your service like a professional (Marketing is so Important!).
1. Learning the skills needed:
To get started with Tableau you need to download Tableau Desktop. Though it is a paid service, you can use a 14 day free trial to get started. It will cost you $70 per month billed annually ($840) which Includes: Tableau Desktop, Tableau Prep Builder and one Creator license of Tableau Server or Tableau Online. If you are a student, you could get a free license of Tableau, but you must have a valid ID card or proof that you are a student. If you are a student follow these steps to get your free license key.
At the top and bottom, you will see an orange button ("GET TABLEAU FOR FREE"). Click on it.
Fill out the form
Tableau will give you a free license for one
You can use it free while you are a student so each year you can do the same thing.
Now that you have Tableau, you will need to learn how to use it. Here are some tips that you can follow to get a boost.
Free Training from Tableau: Tableau gives you free training so why not give it a try, it is actually pretty good. All you have to do just is visit their site and register for free. After completing the training you will get a good understanding of what Tableau is capable of.
Follow Tableau Zen Masters: Tableau Zen masters are experts chosen by Tableau and the community who shares their knowledge and brings innovative new ways to use Tableau. By following their tutorials, articles, and visualizations, you will learn a lot.
Take a course from an expert: Although many good tutorials are free on blogs and YouTube, you may want something a little more structured. Courses from experts is a great way to expedite your learning curve. You can view a lot of different courses on Udemy, Lynda, Amazon Kindle and you can even check out my training courses. I also provide custom training using your data if you are looking for something that will excel your learning a little faster. You are also welcomed to get free training from my YouTube channel and my blog.
Participate in the community: Now you have a good understanding of Tableau it's now time to show your skills in the community. Don't be afraid to answer questions if you think you can solve it, give it a try you will learn by just attempting it. Share your work on Tableau public and also see what other people are doing. Attend seminars/webinars and join a Tableau user group in your area.
Practice makes you perfect: You have to keep practicing and always try to be better than your previous work. Never think that you don't need practice because you are a Tableau consultant. Practice is a must for both teachers and learners. You can do things like makeover Monday to keep your skills fresh and review what other people did to compare and learn.
Knowledge is of no value unless you put it into practice. Anton Chekhov
Get Tableau Certified: It's not mandatory, but it's critical if you want to become a Tableau consultant. To get certified by Tableau, you need to pay a fee and take a test. This certificate is more valuable than Udemy and Lynda certificate. If you are going to get certified do it with Tableau. This will tell your potential client that you know what you're doing and you're serious about this. Learn more about Tableau certification exams on their site.
It's given me the confidence to completely change my career path. Emma
Marketing is the most important thing you will do and many people realize this way too late. You need to market your services to potential clients and let them know why you are the right fit for them. Its true Tableau consultants are in high demand and at the same time competition has also risen. So you have to present yourself in a better way than others. When people look for a service they look for professionals who not only are experts in Tableau but also reliable and can complete their project on time. To prove these things you need to establish your brand. This is a vast subject but hopefully I can give you a head start.
Create an account on freelancing sites: Just starting off you are not going to get clients knocking at your door for your service unless you have great connections. There are many freelancing sites like Upwork, Freelancer, Guru, Indeed, LinkedIn, and even the Tableau community where big and small companies seek assistance with their data. You have to apply, place a bid and usually do an interview to be considered for the project. On these sites, you typically have to create a profile and showcase your portfolio. A good tip is to look at how top freelancers have structured their profile and set their budget and try to mimic them.
Publish content on your website: To get a good position on search engines you must have a website. I recommend using WordPress to make your blog as it is easy to use and you can make your site professionally with cool themes and plugins. You will share Tableau related blogs and your works on your website. Create your site in a way that all information can be found about you and your service. Do proper SEO so that your post/pages can rank on the first page of search engines so potential clients can easily find your website.
Create your fan base: You need to establish your online presence to interact with your audience through social media. I use eclincher to manage multiple social sites at once. Keep updating your social sites regularly with information that gives value to the audience. Participate in Tableau forums and other communities and if possible organize some webinars, podcast or training sessions. This is great because people will get training and at the same time you can promote your service. Marketing is a long term strategy so you won't see success right away, it takes some time so don't give up quickly.
When I conducted my first workshop had only three people including my mom. But I gave my 100% the best that I could. Dan Lok
Networking: If you look at all the successful entrepreneurs you will notice people buy from them because they like them and trust them. So how and from where this trust come from? Neil Patel, a successful digital marketer, continuously promotes himself by making videos on YouTube and creating new content. In a seminar, he stated he converts at least 3% of the audience to a customer who comes to see his webinar for free. People buy his courses because they get value from his free resource and they like the person who is making the course. You have to bring yourself in front of people, so they know who you are, this is possible online and offline.
The easiest way to promote yourself is to do your job well with the clients that you already have. Lorin Beller Blake
Establishing a brand from nowhere in this competitive marketplace requires your dedication and hard work. It is not easy and takes mastering a lot of different skills. You can be the best in Tableau, but if you can't get in front of clients, then it doesn't matter. That is why learning marketing, sales and having other business skills is so vital if you want to be a consultant.  Have you started your journey to become a Tableau consultant, what problems are you running into? Please let me know in the comments and I will try to give you some advice.
FREE DOWNLOAD: Don't leave empty handed, download the Top 10 Dashboard Tips PDF to take with you. Get all 10 tips in a 1 page PDF!