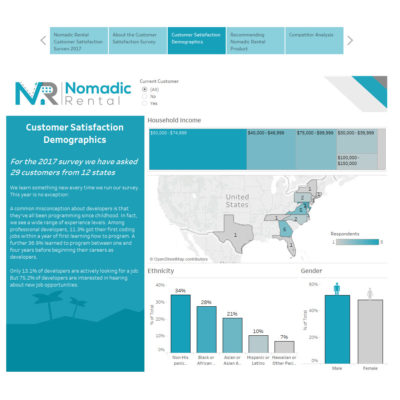 How Interactive Market Research Dashboards Can Increase Sales
.
Stories | vizualintelligence | 0 Comments
I am no Market Research professional but over the years I have worked with a select few market research professionals to convert their tired old PPTs into a cool interactive dashboard. Not many companies have jumped into this area yet due to the skills and experience needed to handle survey data in a data visualization tool. It is a hard and tedious project if you are jumping into it alone.
Take a look at the Interactive Market Research presentation below and tell me who would not like this over a PowerPoint? Not only can you guide your end users with your insights but you can also give them the ability to find their own insights.
In the demo below, I have the interactive presentation of the results and also the analytical tool that the end user can use to find their own insights. This is the future of Market Research Analytics, jump on while it's early!

Interact with the Market Research Dashboard below!